**All Prices Include Shipping and Handling**
Super Stress B-Complex with Vitamin C

$18.00 (including shipping)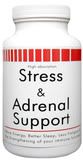 Stress and Adrenal Support - $35

This calming forumla helps reduce the negative effects of stress.
>
Ionix Supreme (Liquid - 32 oz) - $70
Achieve peak mental and physical performance with Ionix Supreme. The drink contains many of our planet's finest natural ingredients to support your body's energy, stamina and health.