**All Store Prices Include Shipping and Handling**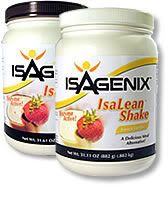 Isagenix Isalean Shake - $70
Isalean Shake is a nutritious meal replacement with 23 grams of undenatured whey and casein protein from New Zealand. This satisfying, proprietary blend, carbohydrates and fat is excellent for overall health and wellness, weight management, or for those trying to build lean muscle.
Ionix Supreme (Liquid - 32 oz) - $70
Achieve peak mental and physical performance with Ionix Supreme. The drink contains many of our planet's finest natural ingredients to support your body's energy, stamina and health.
Isagenix Cleanse for Life - $70
Triple Magnesium Complex - $15
Magnesium is needed for strong muscles and bones, cardiovascular health and more. This complex provides a full day's supply from three distinct sources.
Milk Thistle - $15
Milk thistle is used to help treat chronic liver disease and also to protect the liver from toxins.